Sleep My Little One… You must be Exhausssttedd…
– Lion King 2: Simba's Pride
I mentioned in "To Fleece, or Not to Fleece…! That is the Question" post that I have already tested out the fleece a bit by making a kiwi cuddle cup for the guineas – with hilarious results! Mostly because it was too small for two of the guinea pigs. We used it to be the 'test' kiwi, but it created a lot of funny pictures – as you'll see below!
I was inspired to make my own after browsing Pinterest and seeing this picture: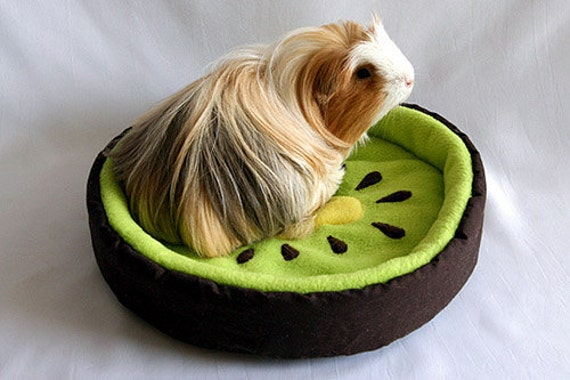 Credit of Idea and Picture to: TheCozyHut on Etsy which I found through Pinterest (https://www.pinterest.com/pin/449867450259664986/).
It seemed like a fun little thing to see the guinea pigs sleep in! Tropical, bright, and packed with vitamin C! — at least the actual fruit is. 
This is our first Kiwi Cuddle Cup – with four more or so to follow! This one was made with specifications that York gave us. Not too shabby, right? Definitely more fluffy!
Note: We will be posting the tutorial on how to make the beds later this month, but until then, enjoy the pictures of one of the piggies loving the bed! Due to sizing after our size trials – this is now Cora's bed. She is the smallest of the guinea pigs so she fit perfectly! The other two.. well… that's another post for another day. 
---
---
CORA'S Rating and Review:
 5/5 Stars!
Cora now sleeps in comfort alongside her human as he does gaming, watch anime, and other computer things. She loves the bed so much that she'll crawl into the bed and happily sit alongside York for hours (until nature calls anyway). It's her new favorite place to nap, even including her igloo! Comfy, safe, and loved. 5 Stars from this cavy!